Heimdal Security has announced its entry into the market for Extended Detection and Response (XDR)!
Heimdal has announced the offering of the widest XDR suite in the industry, featuring 10-in-1 award-winning solutions, all in one unified, easy-to-use console.
XDR represents a shift in cybersecurity. XDR offers a comprehensive visibility and integrated security capabilities across multiple data sources, endpoints, networks, and cloud environments.
Heimdal's XDR solution combines advanced threat detection, automated incident response, and threat hunting into a unified platform. This empowers organizations to proactively defend against sophisticated attacks.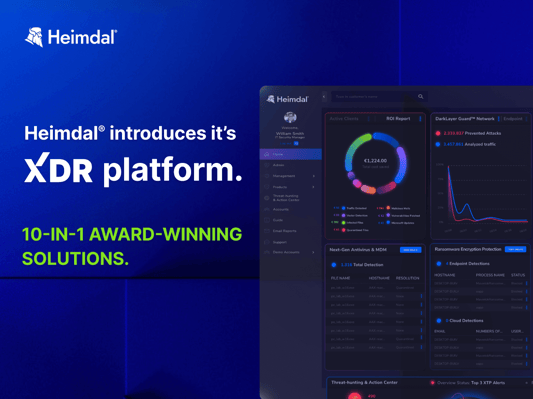 Over the last year, organisations have made a concerted effort to acquire a managed offering for their endpoint security products. As a result of this and the natural progression of the product stack, Heimdal has announced that they have entered the M-XDR space, offering a 24/7 managed SOC service for their product stack. They did so with MSPs in mind; their goal is to provide a flexible SOC service in which the MSP can select the levels of engagement Heimdal's SOC team can have with their client.

How does it work? Heimdal understands that MSPs face the difficult task of providing a SOC-backed service while keeping costs low and maintaining control over the levels of engagement received by the end client. When a client signs up for the M-XDR service through an MSP, the MSP can customise the rules of engagement that Heimdal's SOC team has with the client. For example, Heimdal can alert the MSP before taking any action, only take action outside of work hours without the permission of the MSP, or take all action and notify the MSP afterwards.
This is accomplished through the completion of a rules of engagement document, and the flexibility allows for a bespoke service to meet the needs of each of the MSP's clients.

The full announcement from Heimdal Security can be found here.
If you'd like to learn more about Heimdal's XDR product, click the link below to schedule a demo with a Heimdal Product Specialist.