Our MSP partner, Discus Systems PLC, recently organised a cyber security event for its customers. We spoke with Damien Biddulph, Sales Director at Discus, to find out how it went.

A brief introduction to Discus
Discus Systems is an IT support company that was created in 1997 to meet the demand for IT support and service from small and medium-sized businesses in the local area. Originally established in Coleshill, south-east of Birmingham, the company outgrew its headquarters in 2010 and relocated to prestigious new facilities in Hampton in Arden, Solihull. While IT support is still crucial, Discus believe that cyber security should be the number one priority for all MSPs.
Why did you want to organise a cybersecurity event for your customers?

It was obvious a few years ago that cyber security was becoming increasingly critical for small and medium-sized businesses. The increased adoption of Office 365, coupled with faster broadband, has accelerated this problem. We wanted to give something back to our clients, so we decided to organise a no-nonsense cybersecurity event that provided them with all the facts.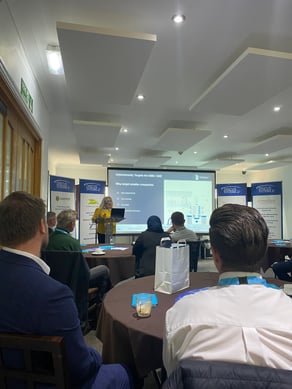 Claire Mollan Channel Account Manager of Heimdal Security presenting
Were there any challenges in organising the event?

In all honesty, organising the event was quite simple. The primary challenge was booking the speakers, venue, and so on. After we secured the venue and speakers, we were able to advertise some interesting sessions to our clients, and we held an event that I was proud of on the day.
What role did Brigantia play in the event?

Brigantia were wonderful; they assisted us with the speakers, content, marketing, and designs. The team were really helpful, and the event would not have been a success without them.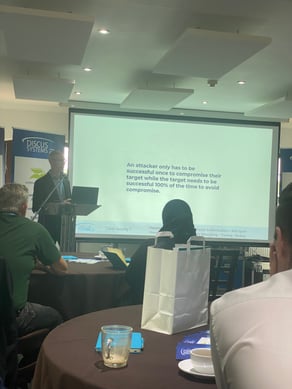 Robert Hall, Product Marketing Director of Brigantia presenting
What advice do you have for other MSPs planning a cybersecurity event for their customers?

In the famous words of Nike, just do it! Set a date three months in advance, make a strategy for what you want to talk about, acquire some good copy, make sure to promote the event via email and social media and have someone follow up on the phone to ensure attendance. Your customers are eager to hear from you, and it's a terrific way to give something back to them. Some delicious food, a decent goodie bag, and quality material can go a long way. Keep it simple!

Was the event a success? 

Yes, we had a good turnout. The feedback forms were positive, the follow-up conversations were positive, and we've had a number of enquiries about the services covered as a result, so the event will easily pay for itself.